Trusted Professional Caregivers and CNAs
Home Care Inc. is dedicated to caring for your loved ones through our personalized in-home services. We approach each person with understanding and empathy, acknowledging that everyone's situation is unique. By tailoring our services to individual needs, we create a nurturing and secure environment, enabling our clients to live with comfort and peace of mind.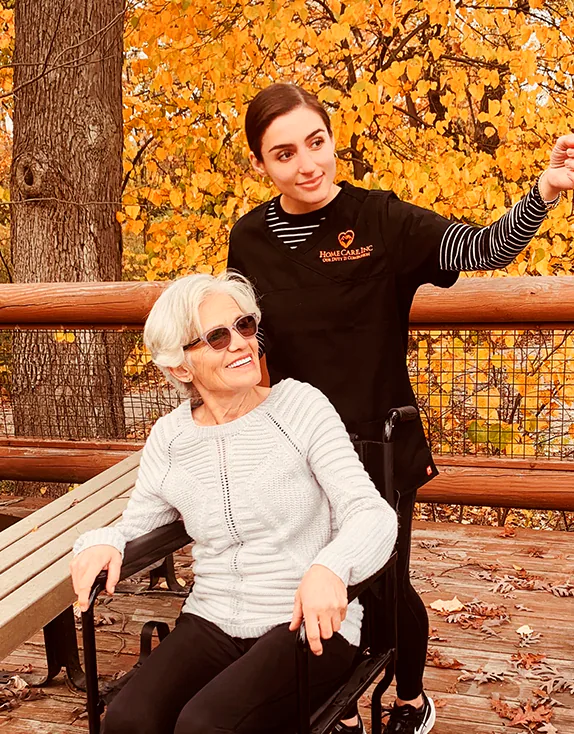 We believe that delivering compassionate and expert home care can greatly improve an individual's overall well-being, dignity, and self-assurance. That's why our caregivers are wholeheartedly committed to enhancing our clients' lives with quality services. We're here to support seniors, individuals with chronic illnesses, and anyone in need of a helping hand. Choose us for quality, respect, and understanding.
Every individual deserves to live comfortably and maintain their independence, no matter their age or condition. To that end, we provide a range of services designed to make daily life easier and more fulfilling.
Some of the services we offer include:
We're passionate about offering diverse, top-quality care services at competitive rates. Our multilingual team breaks communication barriers, fostering stronger connections with our clients. Through understanding and support, we aim to build lasting, proactive relationships. We're here to ensure every client feels heard, understood, and valued in their unique care journey.
What Our Clients' Families Have to Say
Home Care, Inc. is who I call first. They take care of each and every client as their own family member. They always put their clients first and never disappoint. Homecare, Inc. is every family fairy godmother!
Review by Rachel
I hired this company for my mom's care, and I am so grateful for the help I have had in my home. The whole Home Care Inc. team is the best. I will hire them if there is a need again. Thank you for all you guys did.
Review by Vicky
Your loved ones are in good hands with Home Care, Inc.! They are very professional, and you have peace of mind knowing that everything is being taken care of in your absence. I highly recommend their services. I have had other companies where this was not the case, and I am so glad I found them.
Review by Thomas
I must say that I absolutely love the Homecare, Inc. team! I never have schedule or payment problems, and I can get questions or concerns taken care of around the clock. I highly recommend Home Care, Inc. to all caregivers.
Review by Marcus
I had Home Care, Inc. care for my father and my husband; I couldn't be happier and would very much recommend them. The office staff was so helpful, and they made the whole process very easy!
Review by Viba
They were tremendous with my dear auntie, who had Alzheimer's. Besa was very responsive and accommodating. I would recommend for any home care or elderly assistance.
Review by William